Winners of the Bradford Curry Awards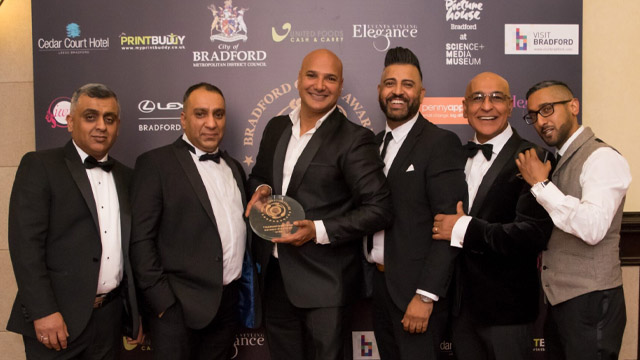 Top curry establishments in Bradford have been hailed the best of the best, after winning their categories in the inaugural Bradford Curry Awards.
Bradford is the current holder of the national Curry Capital of Britain title for the sixth year running and the local awards were launched to promote pride in Bradford and profile the industry's rich heritage.
BEST RESTAURANT – PEOPLE'S CHOICE – Café Akbars (Chosen by public vote – with more than 6,500 people voting for their favourite establishment from the five shortlisted nominees).
More than 300 people attended the awards ceremony where they were treated to the first-ever Royal Bradford Thali, a sumptuous banquet put together by the five finalists in the Best Restaurant, Judges' Choice category – Jinnah, Shimla Spice, Café Akbars, Sultan and Prashad. The event was compered by the highly amusing London comic Salman Malik.
Bradford Curry Awards Founder and Director Fatima Patel introduced the event and thanked everyone for their support and their contribution to Bradford and the local economy.
She used the occasion to launch a powerful campaign to attract more people into the industry. She said while the UK had around 250,000 professional chefs, with 48 per cent of these being female in 2001 this had dropped to 18 per cent in 2016.
She said: "As a woman putting on this major event I have had massive support from all these business owners who are here tonight, so I can see that the industry in Bradford is ready to lead on this cause. I'm now calling on all the business owners in the room to get behind a target and pledge to attract more women into the industry by this time next year."
CEO of Bradford Council, Kersten England said the industry is worth £4billion to the national economy – with 23 million people regularly consuming curry meals and £500,000 of this was contributed by Bradford.
She said: "To me, the question is, why haven't we had our own curry awards before? Bradford has its critics but is well thought of in certain fields and curry is one of them, so we should be proud of it. We have more than 200 curry establishments including some very big names, but also dozens of fantastic little restaurants.
"Curry is as synonymous with Bradford as Hockey, Wool Mills and our stunning moors."
She also praised the generosity of the industry in Bradford saying that businesses helped to fed thousands of people in need ensuring that they don't go hungry."
After enjoying a range of street food and networking in a colourfully-decorated marquee guests sat down to an evening of entertainment and award announcements.
There were presentations by David Wilson of Bradford UNESCO City of Film, a surprise appearance in the form of Bollywood Producer Sunil Bohra and Arjun, the British Sri Lankan singer-songwriter, record producer and actor who is currently the most viewed UK Asian artist on YouTube, with over 250 million views.
Fatima said: "Apart from a few technical glitches, I am extremely delighted that the event went really well. Everyone had a great time, the food was exceptional – after all it did come from our award-winning finalists backed by a fantastic catering management team, Sukkur Cuisine.
Congratulations to all the winners, but also to the finalists, who should be proud of making it to the final five. I look forward to inviting you all back in 2019!"
Source: www.asiansunday.co.uk